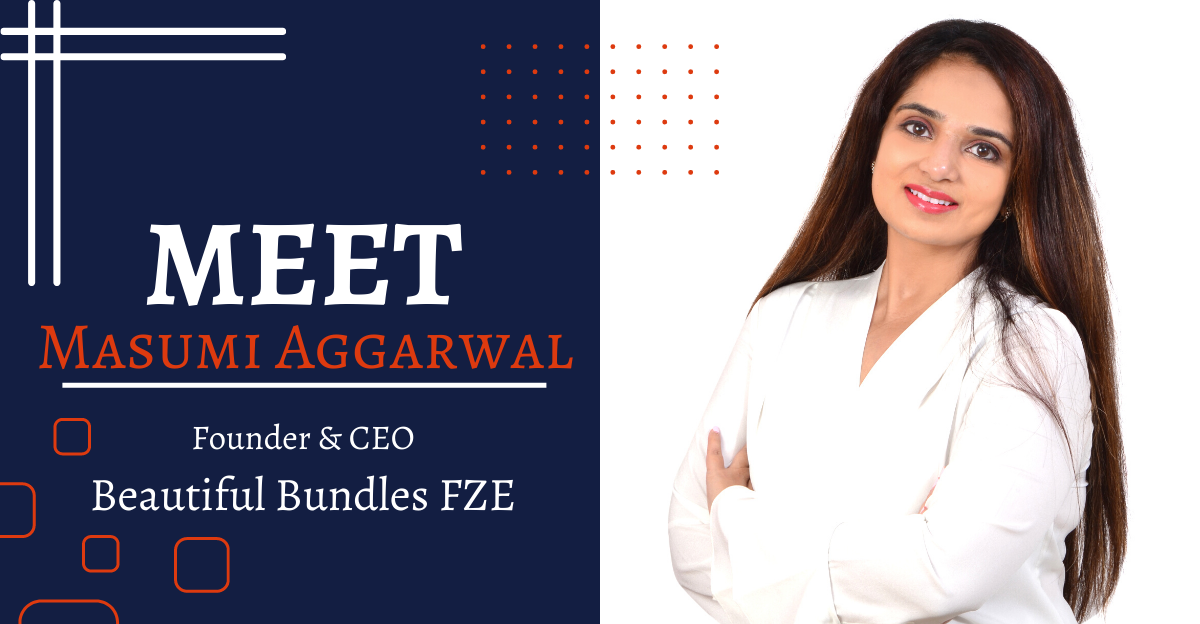 Masumi Aggarwal, Founder & CEO of Beautiful Bundles FZE, is a Chartered Accountant from ICAI, India. She has a decade of experience in the banking industry with leading banks and MNCs in India, UAE, and Singapore. After gaining multiple expertise through her various roles with these leading banks, she finally decided to start her own venture. Being a Mother of 2 lovely kids, Masumi Aggarwal decided to start her Mumpreneural journey in the eCommerce sector.
Masumi Aggarwal believes in "Keizokuwachikaranari." In Japanese, it's literally said: Continuance (also) is power/strength. This means: Don't give up. Just continuing to hold on will yield/reveal strength and power. Continuing on after a setback is its own kind of strength. Perseverance is power.
Her company works exceptionally in the Ecommerce sector and even has a social media presence on Instagram. Beautiful Bundles was established in 2022 by a Financial Professional turned Mumpreneur who envisioned bringing all leading local and global brands under one roof. With the growing need for an E-commerce marketplace platform, Beautiful Bundles has diversified into fashionable clothing, toys, skincare, baby care, and healthcare products. Through our interview, our interview below, let's learn more about Masumi Aggarwal and her company, Beautiful Bundles FZE.
Explain the background of you and the company in detail.
I have worked in various retail and financial conglomerates, moved from countries like India and Singapore, and finally destined myself to Dubai.
After having a diversified work experience of over a decade, I decided to pursue my passion as a Mompreneur and begin a new journey in an Ecommerce platform in this ongoing and growing digital marketplace world.
That's how I started Beautiful Bundles FZE. It is a one-stop shop for all family needs. Be Natural, Be Beautiful, Be you!! Beautiful Bundles allows one to shop from the comfort of home and enjoy free shipping on their orders from a variety of products tailored for their family.
What are your goals?
To make Beautiful Bundles the first choice for every E-commerce buyer in UAE and to create a brand identity that creates an impression in the audience so that the brand itself can differentiate from other businesses in the same market.
What do you feel is the biggest strength of yourself/company right now?
As an individual, my biggest strength is "Being a true believer in the things I do. My passion, commitment, and ability to be attentive to every detail are my strengths." As an entity, Beautiful Bundles has most of the leading brands locally and internationally on its platform. We are building our core strength into competitive pricing, ability to deliver to customer commitments, reliable and high-quality products, significant product variety, and most importantly, relationships with customers as customer experience is superior.
What was the path you/your company took to get to where you are today?
Being a mompreneur has always been a "passion of mine."
Well, I would have continued with my traditional career path of working as a salaried individual and retired one day. Today I feel very glad I took this challenge and opportunity to start my own mompreneur business.
I believe in this digital age and am fascinated by the entire transformation of E-commerce platforms. I know innovative technology is the new age of marketing, which excitingly will continue to evolve." Hence, being a leading e-commerce platform and reaching customers is our goal.
Why did you start (or want to be the head of) this company?
I've always had a passion for becoming an entrepreneur, and the challenge was to find the right kind of empowerment to deliver at my fullest potential and do my own work. The thought of starting an Ecommerce platform was my passion as it introduces a new product every day, caters to every customer's needs in this digital world, and that's the future. My partner Mr. Vikram Jindal (CIO), and I strategically planned, and we worked together to make it a reality. Here we are "Beautiful Bundles" to offer a wide variety of products and will always be innovative to cater to customer needs.
What have been the biggest challenges you've had to overcome?
I have learned, "Challenges are a part of your journey, whether personal, social, or professional life. A sharp shift in my career was my biggest challenge, and I have worked very hard to overcome the same.
The move from salaried employment to becoming self-employment, building a team with a common vision, and managing internal & external engagement with my customers, to attaining non-stop customer satisfaction, learning about social media, promotional campaigns, and so on, Beautiful Bundles is built from scratch from a mompreneur who envisions to make this as a preferred brand in UAE.
Give us one word that describes you the best.
Determined
What makes you excited about Mondays?
Being a Mompreneur and running an eCommerce platform every day, 24/7, the excitement continues when you deal with your team and customers.
However, Monday is special, as it comes with high-octane energy for me. My kids go to school, my husband goes to the office, and after fulfilling family duties, I am all set to step out to the gym/ go for yoga, go back to the office and connect with my team for a meeting. Hence, for me, it's JUST ANOTHER MAGIC MONDAY.
What do you value most about your culture and vision?
The ultimate goal is to promote a positive culture and align the company's vision. To have a common vision, I embrace diverse ideas and opinions from my team to achieve a common goal for the company. Hence, vision and culture go hand in hand. Our vision is to create and promote an employee-friendly culture and give my customers a user-friendly, fast, and smart shopping experience.
Tell us about a project that forced you to be innovative and creative.
Well, that's a good question. Being a Chartered Accountant, and moving to this entrepreneurial role, the most innovative and creative project for me was to enter into the Ecommerce space. From planning to execution, I had tremendous support from my partner Mr. Vikram Jindal, CIO (Chief Information Officer ) of the company, and we worked 24/7 to make it possible and build an Ecommerce platform. We used to sit to design the website and made every step from constructing the web-designing, payment gateways, products, sales, marketing events, brand collaborations, pricing of products, and learning competition.
What are your company's strategies, and how do they stand unique from your competitors?
You must evolve in this digital world for an eCommerce platform to succeed. As a company, we believe in providing the unique and best local and international brands at very reasonable and affordable pricing. Our main objective is to provide good customer service and experience and build brand loyalty.
It's important to focus on customers and try to provide solutions. This can bring customer loyalty and can give you a good competitive advantage.
Innovation in my business would always be a competitive benefit, as you can't eliminate competition, but competitors will find it difficult to imitate if you can innovate. My future plan is to be part of a social community and contribute to society in all kinds of ways.
What are the key values which helped you to overcome the roadblocks/challenges in your career? Tell us something about your memorable incident in your leadership.
It's said, "The biggest roadblocks are the ones in your head. Do it before it's too late." For me, being an honest person to do something different and challenging myself. In the initial days after the launch in March 2022, I realized that we would need to re-think and re-work our goals to achieve the vision that we had for Beautiful Bundles. Being in the industry for only 2 months then, I started reaching out and successfully collaborated with more than 70 brands who would host their products on our website. It was a 360-degree change for us, but I am happy we took that change.
How do you see the company changing in two years, and how do you see yourself creating that change?
I am certain that in the next few years, Beautiful Bundles will become the leading brand in the UAE, and I want to set realistic goals for myself and my organization. For this to happen, I want to bring several local and international brands to the E-commerce platform and cater to all my customers' needs.
Where is your leadership going? What benefits do your clients get from your company in this competitive world?
Business leadership is always about setting and achieving company goals. I make an effort to make quick decisions, think to outperform the competition, and inspire/motivate people in the company.
Every decision from product to marketing is always keeping customers in the center. Our customers are happy to buy as we are making all products available at their ease of a click. Hence, new innovative ideas on every product offering, competitive pricing, and regular customer feedback to enhance customer satisfaction.
What are your company's services/solutions or products on par with the current industry standards? Tell us something about your upcoming products or services.
Beautiful Bundles hosts a wide variety of local and international brands on the web. The products range from baby care, skincare, healthcare, personal care, hair care, post-partum, back-to-school supplies, fashionable clothing, Kids' toys, baby gear, baby feeding essentials, and more. We will soon add and promote many license-based brands on the Beautiful Bundles website, catering to all customers of UAE.
Connect with Masumi Aggarwal on LinkedIn.
About Author