We connected with Miranda Gahrmann and talked with her about her skills, background, and what she does these days. We got to know a lot about SEO, and she shared some insightful knowledge with us. Miranda is a digital marketing expert with over 15 years of experience. She is the Founder of Digital Rescue Rangers, a digital marketing company.
About Miranda
Can you introduce yourself?
"I'm Miranda Gahrmann, a global SEO manager at Randstad and founder of Digital Rescue Rangers. I've been working in digital marketing for 15 years, and I've optimized websites in 80+ countries around the globe.
Originally from the Netherlands, I moved to Dubai in 2016 as I saw its environment as the perfect combination of multicultural, business-oriented, and warm. The experience has been very positive, so that turned out to be a great move. In particular, the philosophy in Dubai is appealing to me; being the best of the best and having a constant drive for innovation. That also aligns with my own goals." says Miranda.
You have done quite some studies. Why?
"So far, I have a bachelor's in International Business and Management, a master's in Digital Marketing from IE Business School, a master's in Brand Management from EURIB, and I'm currently doing a master's in Software Engineering at Harvard. Besides being very curious and having a constant need for new information, I also want to be the best in my work. The recommendations I provide need to be accurate and based on data so I can effectively help clients move forward with their business goals. Also, the world keeps evolving, so by upgrading my skills, I make sure they stay relevant and in demand." she continues.
Digital Rescue Rangers And the Importance of SEO
We also wanted to know more about Digital Rescue Rangers, so we asked her:
"What do Digital Rescue Rangers do?"
"Digital Rescue Rangers is a digital marketing agency based in Dubai that operates around the globe. Our typical clients are enterprise companies that operate across countries and languages, such as PHILIPS, McAfee, and government entities, such as the Ministry of Tourism of Oman.
The name originates from a situation that occurred while I was working for a large company. By accident, half of the local websites across 80+ countries were set to noindex, meaning that Google would remove those pages from its index. We discovered the problem quite quickly, so the damage was limited, but it could have generated a serious drop in the company's revenue. Therefore, we consider ourselves the rescue rangers of the digital space." she says.
Why should companies invest in SEO?
She said, "SEO stands for Search Engine Optimization and is one channel within the digital marketing mix. It usually accounts for 30% – 50% of website traffic and is a large driver of sales.
The goal of SEO is to achieve a high position on the first page of Google when users search for relevant topics. Because almost any company would want to have their website appear in Google when users search for their products, SEO is in high demand.
Also, paid channels are becoming more expensive. By investing in their own websites, companies become less dependent on external sources to acquire new customers."
Ranking In Google
While discussing this, another question sparked our interest which was, "Is it easy or difficult to rank in Google?"
Miranda says, "The difficulty depends on multiple factors, such as how in-depth your pages are, the level of competition, and the popularity of your website vs. competitors. Google has over 200 ranking factors and grades websites accordingly.
It can easily take 3 to 6 months before you notice a considerable impact on traffic and sales, and for highly competitive industries such as travel or competitive markets such as the US, that can take even longer.
In the Middle East, we're mainly optimizing sites in English and Arabic. Depending on the topic, English pages compete with other English pages in the US, UK, Australia, and so on. So, the competition in English is higher than for Arabic, which is mainly spoken in the Middle East. In particular, Arabic language optimization offers possibilities for brands in this region; commercial investments in SEO so far have been limited, so companies that do so can gain a competitive advantage."
Changes In SEO Over the Years
"How has SEO changed over time?"
She continues, "In the old days, SEO tasks were straightforward and could be executed on an individual basis, i.e., by adding popular words to the text and headings on the page. Google has become more sophisticated and now understands the topic of the page. That's why the current SEO focus is more on providing a complete answer to user queries in a fast and appealing way.
Nowadays, a successful SEO specialist works closely with different departments to implement their SEO strategy. A few examples: the IT team needs to provide a fast website and add pieces of code to help Google understand what the pages are about. Close collaboration with the content and product teams is needed to create the content people are looking for. The customer service team provides information about what questions users have, which can be used as input for creating content."
Calculating ROI of SEO & Getting Started
When talking about SEO, we also asked, "How to calculate the ROI of SEO?"
She replies, "The ROI of SEO can be calculated over a 3-year timeframe. The impact of SEO builds over time, so it's very much a long-term investment. The compound growth of these benefits year-over-year can be seen in the evaluated ROI curve. Forrester researched the ROI of SEO for 5 enterprise companies in the US and found that their ROI on SEO was 571%, with a payback period of fewer than 6 months.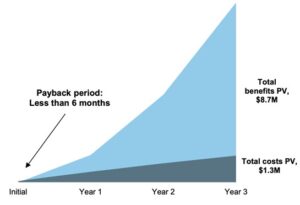 There are different ways to calculate the ROI of SEO. One way is to extract the revenue generated via SEO and divide it by the total costs for content creation, the SEO team, and the development team that enabled the growth.
In some organizations, it can be quite difficult to identify which sales or customers came via SEO, especially when the sales process is complex or takes time, as in B2B. In those situations, we may look to other channels such as advertising, looking at how much was spent on ads to attract a certain number of visitors, and use that number to calculate the value of SEO traffic."
Based on the previous conversation, our last question was, "How to get started?"
She concluded, "The base of SEO strategy is doing keyword research to understand what your target audience is searching for. With this insight, your website needs to be reviewed for whether pages need to be optimized and enriched with content or if new pages need to be created. For the technical part, it can be beneficial to reach out to a technical SEO specialist who can review the website and provide recommendations for developers. Getting this optimization right can make you stand out in your industry."
Connect with Miranda Gahrmann on LinkedIn.
Find Digital Rescue Rangers on LinkedIn, Facebook, and Twitter.
About Author