As a result of the most current assessment by the Xinhua-Baltic International Shipping Center Development (ISCD) Index,
Dubai's standing as a premier, global maritime hub.
Published: July 11, 2022, 9:48 Updated: July 11, 2022, 9:52 p.m.
While Singapore scored 94.88 out of 100 points, London achieved 83.04, Shanghai gained 82.79, points followed by Hong Kong with 79.15 points, and Dubai wrapped up the top five listing with 75.74 points.
Persistently, Singapore tops assessments of maritime cities across the world once again.
Since many large investments and port developments throughout the world were put on hold over the past year, there haven't been any much changes in the rankings.
We shall go into more detail about Dubai's ranking as one of the top 5 marine centres in the world in this piece.
Top Five
As per the ISCD Index, Emirates get placed among the top five worldwide. Omit international shipping hubs, Singapore, London, Shanghai, Hong Kong, and Dubai will be the top five in 2022.
In this list of centuries-old maritime hubs, Dubai's shipping industry—a relative newcomer—is rated as the best in the Arab area. The UAE has made significant infrastructural investments, which have attracted business and tourism.
The report emphasized that "Covid-19 related restrictions affected economies around the world and the sharp rebound in trade snarled up supply chains globally."
It also noted that the main shipping segments have had mixed results, particularly with the container industry boasting unprecedented profits while tankers running at or below operating costs.
Mark Jackson, CEO of Baltic Exchange, a company that provides international freight benchmarks, said that the research is a crucial reminder of how vital shipping is to trade and development worldwide.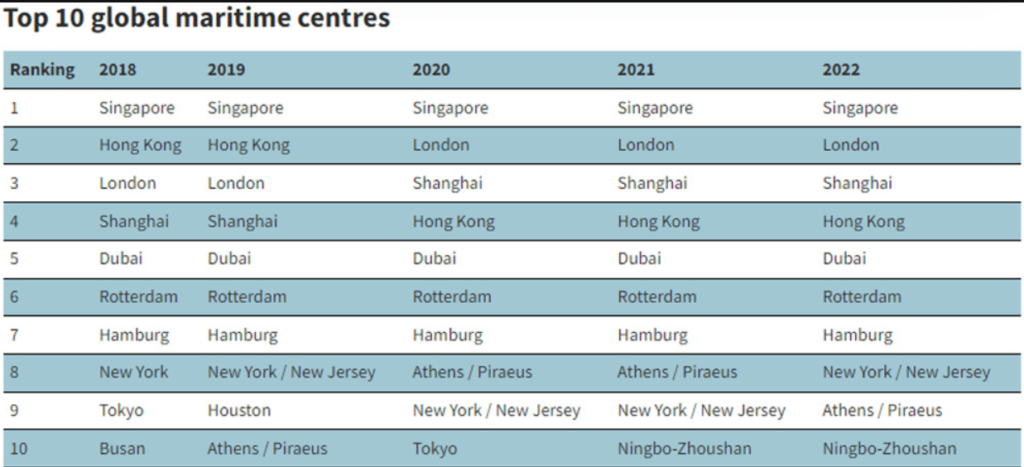 Dubai's Future Marine Plans
A $38 million plan to improve roads and infrastructure was unveiled by Dubai Marine City to better integrate the maritime city and draw in new enterprises.
Dubai provides a variety of places to conduct business, including
1. free zones,
2. industrial districts, and commercial structures.
Free zones that permit 100% foreign ownership of firms are many.
According to the Dubai Maritime City Authority, mainland business policies allow full foreign ownership in 122 economic activities in 13 sectors and provide 100% profit repatriation.
Emerging Market
According to the UN Conference on Trade and Development's (Unctad) Global Trade Update report.
In the first quarter of 2022, the value of global trade increased by almost 15% to a record $7.7 trillion, representing a $1 trillion increase over the same period in 2021 and $250 million more than the fourth quarter of 2021.
Where, Dubai has made significant investments in infrastructure development, which has increased business and boosted tourism-related activities.
According to the ISCD assessment:
Marine operations now play a significant role in the emirate's diverse mix of sectors, with top ports like the DP World-operated Jebel Ali and Mina Rashid and the purpose-built Dubai Maritime City.
Further, the research said that:
The recent 2020 regulation revision approving foreign ownership of specific maritime industries enhanced the UAE's status as a magnet for global businesses and investments.
Also, learn about: The overseer of Expo City Dubai will be Sheikh Ahmed.
A Complete Overview
The China Economic Information Service, a division of Xinhua, in partnership with the Baltic Exchange,
Created the ninth edition of the Xinhua-Baltic ISCD Index report, which ranks the top port cities and marine hubs worldwide.
So on the ISCD shipping centre index:
Rotterdam and Hamburg came in sixth and seventh,
While New York/New Jersey came in eighth.
After increasing its twenty-foot equal unit (TEU) capacity in 2021 and passing Athens/Piraeus, which took ninth place.
China's Ningbo-Zhoushan port replaced Singapore and Shanghai.
As the third busiest hub for cargo handling in the world has maintained its tenth-place ranking for the second year in a row.
Dubai Marine Life FAQs
1. What rank is Dubai in the world?
Dubai is currently ranked as the fourth most visited city in the world.
According to the annual Mastercard Global Destinations Cities Index.
2. Which Ocean is in Dubai?
The Persian Gulf.
Dubai is an emirate-level city in the United Arab Emirates. One of the seven emirates that make up the nation is the emirate of Dubai, which is situated on the Persian Gulf's southeast coast.
3. Does Dubai have marine life?
Along the coastlines and inland, there is a wealth of aquatic life.
Dubai's world-famous for
1. aquariums
2. animal sanctuaries.
And distinctive diving options provide intriguing opportunities to explore the aquatic world.
About Author