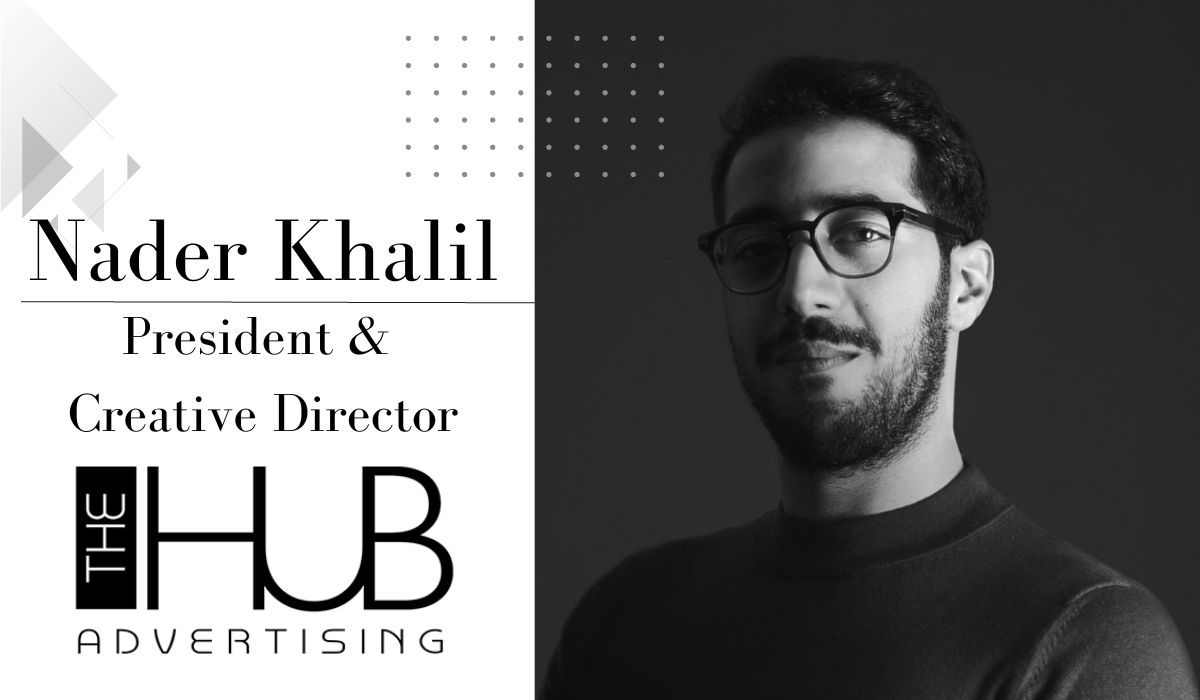 We recently interviewed Nader Khalil, President and Creative Director of The Hub Advertising. With years of expertise in the field, he is the best when it comes to the media field and advertising. His company is well-known for accessing top-notch advertisement services. They try to execute their services uniquely, which makes them different from all their competitors. Learn more about Nader and his journey through our interview below.The Hub Advertising
Advent Of The Career and Inspiration Behind It
Every company has a story behind its start and success. We were intrigued to learn how Nader started his journey and the inspiration behind building his company. So we asked, "Which career path led you to where you are today?"
Nader Khalil shared, "I got my Bachelor's degree in Communications Studies at Vesalius College in Brussels, and I have a Master's degree in Leadership from Boston University in Brussels. That's how I started in general."
"What inspired you to develop the idea of your company?"
Nader Khalil replied, "I always wanted to take part in Advertising or the media field in general, so when I was studying in Belgium, I started a Digital Media agency which operated successfully for two full years. However, upon the completion of my Master's degree, I decided to go back to Egypt and start a full-service Advertising agency in Egypt."
Priorities In Business
Every business starts with a set of priorities to achieve as time passes. However, with the changes in the circumstances, the companies have begun adapting their preferences too. We asked, "How have your priorities in terms of business evolved since you first started?"
Nader Khalil shared, "My priorities didn't change because they have always been the same. My priority is to create great campaigns that would lead our clients to tremendous success and hence to ours as well."
He added, "We have always tried to expand our services and do our absolute best to execute what we do with the highest quality and the best prices in the market. And because our motto is "Be Different, Be Irreplaceable!" We always do this. We try to be different in whatever we do."
Challenging Situations In The Course
Every company has to move forward by tackling all kinds of challenges. So we asked, "What are the most challenging situations your company overcomes?"
"The company's most challenging situation is usually the country's economic status, like the current economic situation in Egypt, such as the devaluation of the Egyptian currency, for instance. The other intriguing challenge is that we do not have a Business Development or Sales Team, so we always try to create the best we can to attract more clients." Nader replied.
Unique Features Of The Company
All businesses have features that make them unique from their competitors. We were eager to learn about the unique features that make Nader's company different from others. We asked, "What makes your company stand out from all the other businesses in your industry?"
He shared, "I think what makes our business stand out amongst all the other businesses in the market is that we are a very dynamic team. We have a specialized team for everything, so we are not only specialized in one aspect, and we don't just work with one or two certain fields. We work with all the fields like FMCGs, Health and Care, NGOs, Retail, Fashion, or whatever it is which gives us a special edge."
KPIs In Measuring Success
Businesses use certain KPIs to measure their success rate. So we asked, "What KPIs do you use to measure your business success?"
Nader Khalil shared, "The KPIs we use to measure our business success, I guess, could be benchmarking what we did this year compared to the past year based not only on numbers and sales but also based on whether the campaigns that went viral got awarded or shortlisted because that's also something we consider as a KPIs."
Current Services
While interviewing, we also learned about the current services offered by the company, which our readers might find helpful. So we asked, "Tell us something about your services. What are you working on now?"
He shared, "As for our services, we are currently mainly focused on branding, packaging, digital campaigns, production, and TV commercials, etcetera with companies like Americana and Egypt Foods, for example, and rebranding for hotels like Pyramisa, for instance, or outdoor campaigns like Dubai Shopping Festival for Dubai Holding."
Building Bonds With Employees
To run a successful business, having cordial relations with the employees and cooperating with them is paramount! So we asked, "How do you build trust with your employees and boost productivity without causing burnout?"
Nader Khalil shared, "Generally, we are a "family." We share a lot of team bonding, birthday celebrations, breakfasts, and gatherings. We are all a family. No hierarchical vibes are involved; therefore, we are very tight together."
"Also, our office consists mainly of many open spaces; there are not many small closed offices which makes the employees socialize more and get to know each other well within a positive and motivational environment. We boost productivity with general motivation and bonuses for sure." he further added.
Adapting To the Latest Trends and Technology
For effectively connecting with customers, a business needs to adapt to all the new trends and technological advancements! We asked, "How do you stay on top of new technologies and trends in your industry?"
"We have a research department responsible for following up with everything new to help us enhance our methods, develop the latest technologies and keep up with the recent trends. Also, it's worth mentioning that we are part of The Ad Store International, which means we operate in 15 different countries.
In addition, there is also something called the Ad Academy, a monthly webinar about specific topics regarding design, client servicing, strategy, etcetera. So every month, we learn about the latest technologies and help us stay updated with the new trends worldwide." Nader shared.
Advice To Budding Entrepreneurs
As young entrepreneurs may find it helpful, we asked Nader, "What advice would you give to starting entrepreneurs?"
Nader shared, "The First thing I'd advise the starting entrepreneurs is to focus the most on creating the best work they can do. They shouldn't worry much about making big profits at the beginning. They don't have to start big; they can start small and give all they can to whichever clients they can land, and step by step, they will grow their reputations and expand their businesses."
Connect with Nader Khalil on LinkedIn.
Find The Hub Advertising on LinkedIn or visit https://www.thehubadvertising.com/.